Chanel creates for The Journal - with Suzy Parker!
"Six great suits ... brilliant in their becomingness, their adaptability, their ease for current living. Even as you turn, the pages to see these clothes with the world-famous name they are being shown in Paris in her spring collection. Like all "Chanels," they are seasonless, yet have an identity and a quality that go beyond the flashes of fashion.

Chanel has always believed that the woman is more important than the clothes she wears ... that fashion should never be a problem, but always be young and wearable. She brings a woman's understanding to fashion design.

These Chanels are "in" fashion and will be in for seasons to come; and although they are casual, they are utterly feminine. Lavish, brilliant jewels (which she loves) are a part of every costume and can be worn with, everything from tweeds to lames."

By WILHELA CUSHMAN Fashion Editor

"Suzy Parker, soon to be seen in the film Ten North Frederick, wears this Chanel tweed flecked with many colors, given the surprising touch of violet taffeta in its jacket lining and blouse. The matching tweed bag and the jeweled pin are Chanel designs too."


"Chanel brings tweed to dinner and the theater by combining it with a lame blouse -pale tweed and gold lame. The pendant necklace designed for the costume is of baroque pearls twined with gold."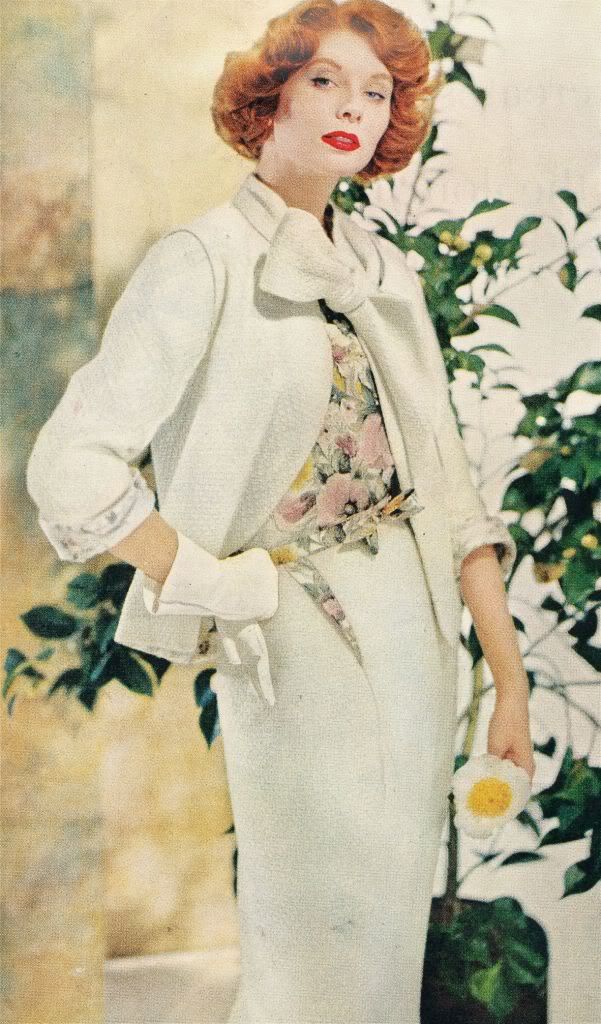 "The white basket-weave tweed with printed silk blouse is an enchanting, feminine, spring-into-summer fashion photographed on Suzy Parker. The silhouette is slim and easy. The blouse ties softly at the waistline. The jacket lining matches the blouse."


"Year-round beige jersey with a fitted overblouse of navy-blue jersey is any woman's any-daysuit. Again, a matching handbag hung on a gold chain, and a rope necklace of gold and white."


"Silver-lame dinner dress and jacket-a fashion with great glamour and at the same time wonderfully easy to wear."


"Red-and-navy jersey is eternally right in Chanel's opinion. Jersey blouse with jersey suit is also a favorite formula and wonderful for an early-spring or a travel suit. This four-pocket, straight-jacket fashion is worn by Suzy Parker."