"The fashion picture this spring is painted in the prettiest and palest of watercolor shades, serenely soft-spoken pastels appropriately interpreted in lovely ladylike costumes. Look for deep-textured fabrics, effortless lines, and many delightful details derived from Chanel."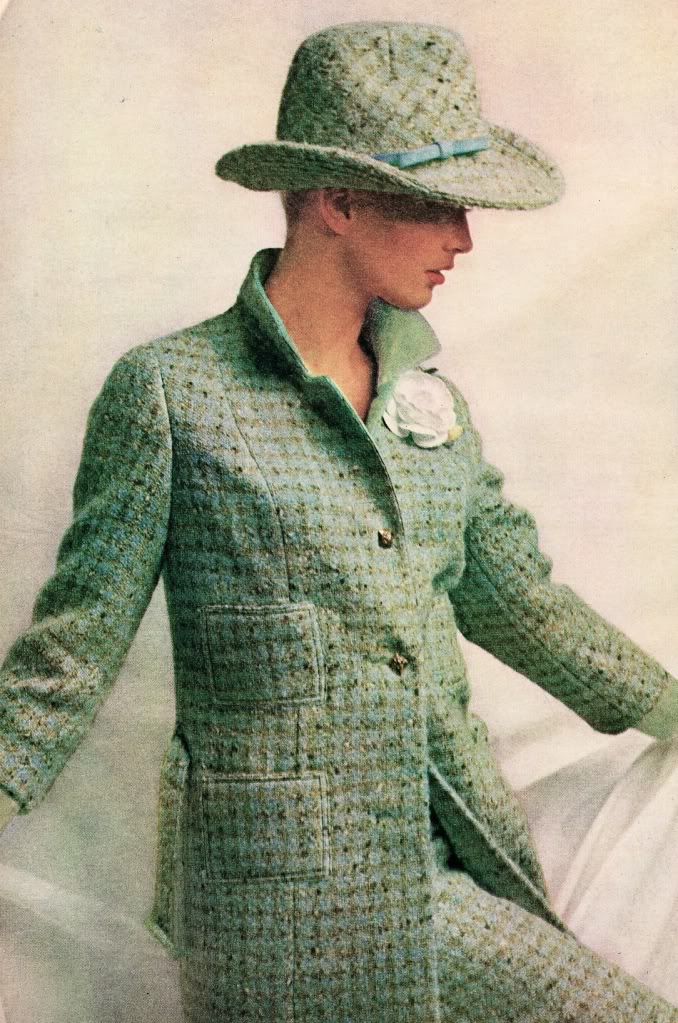 "Pale aqua, a subtle admixture of blue-and-green checked wool in a beautifully slender reefer-and-skirt costume. The coat has a casual elegance, with lion-head brass buttons reminiscent of Chanel, a notched collar faced in sage-green silk. About $110. Victor Joris for Cuddlecoat."

"Faint lilac, a shade delicate as perfumed spring air, in a superbly detailed wool-tweed coat. Note the pocket flaps slightly curved, a half belt joined with a Chanel-like chain. About $60. Faye Wagner for Dani Jrs. We show it accessorized with a lilac silk snood."

"Seafoam green, a frothy mixture of green, blue, and white, in a chenille like blend of wool and cotton. The suit jacket, in the Chanel tradition, is braid-trimmed and brass-buttoned; and the blouse is in this season's important new soft crepe. About $90. Stephan for Briarbrook."

"Powder blue, in a deceptively fragile-looking white-flecked tweed with the delicacy and porousness of lace. The suit jacket has a mere suggestion of a stand-up collar and giant ball buttons; the eased skirt has two slash pockets at the hip line. About $100. Junior Sophisticates."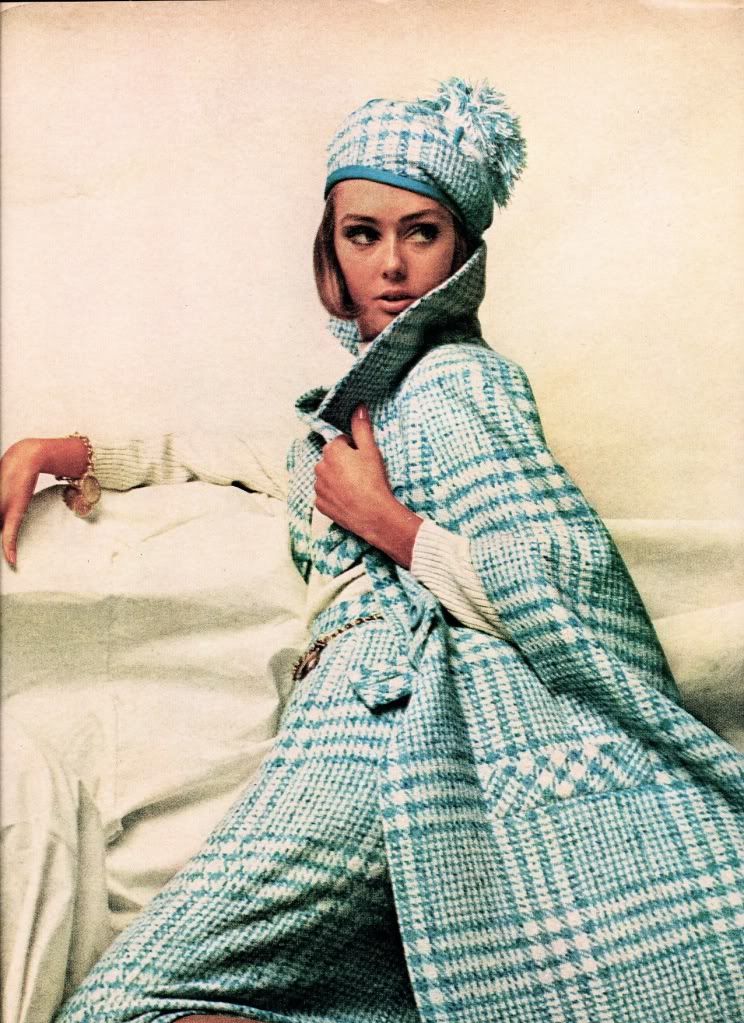 "Clear-sky blue, in a bold plaid on white, is fashioned into a dashing and dramatic cape costume. The cape, cut to full street length, has a big stand-up collar and fastens in front with outsize tabs of the same fabric. The matching skirt beneath is slim but easy. About $85. Modelia. The tasseled hat, by Adolfo."

"Not quite white, but a rich creamy color, in an elegantly fluid afternoon dress, with a gently lowered waistline accented with heavy welt seaming, a high, cuffed neckline, and raglan sleeves. In lightweight textured wool. About $40. Stephan Ltd. Headline news: The big brim is back; ours is by Halston."

"Faint blush of pink, a marvelously muted shade in a delicate-looking three-piece costume. The jacket of lightweight tweed has accents of quilted pink silk inset in the collar, revers, and pocket flaps. The matching pink silk blouse is collarless. About $60. Frank Adams for Junior Accent."